An understanding of rheological properties is critical for industries working with electronic materials from printable electronics to conductive and resistive pastes to batteries and fuel cells. These materials are notoriously difficult to measure with simple viscometers, and the need for viscosity measurements across a range of shear conditions, in combination with yield stress and thixotropy information, necessitates the need for high performance rheometers. Our expert services in profiling, benchmarking and competitive comparisons can help you optimise your product development, process, production and quality assurance.
Rheology profiling methods for electronic materials
We can provide the following suite of measurements for electrode materials:
Viscosity: Pastes and suspensions exhibit significantly non-Newtonian behaviour. Specifically they exhibit pseudoplastic viscosity profiles, where viscosity is higher at low shear stresses or rates but decreases as shear stress or shear rate is increased. A simple single-point measurement, such as would be performed on a viscometer, is therefore insufficient to capture this behaviour.
Yield stress: The strength of soft-solid colloidal gel structure resulting from particle and/or polymer interactions.
Zero-shear viscosity: A special case of viscosity – the viscosity of the paste when exposed to stresses below the yield stress. Zero-shear viscosity is a key determinant of creep, sag and slump resistance and suspension stability.
Thixotropic recovery rate: The rapidity with which zero-shear viscosity and yield stress recovers following the cessation of shearing.
Rheology of Anode and Cathode Pastes and Slurries
The rheology of electrode slurries and pastes is critical for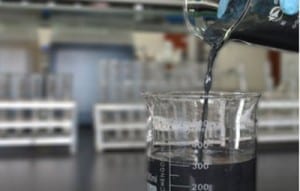 lithium ion cell manufacturing processes, such as extrusion, slot-die coating, calendering and screen printing. For these materials it is necessary to have a flowable product that can be mixed, pumped and coated with ease, but that also rapidly recovers to prevent sagging and slumping of deposited materials. Variables such as active material particle size and size distribution and concentration and molecular weight of additives and dispersing agents all impact significantly on the viscosity and rheology of binders and finished electrode pastes.
Rheology Profiling for Printed Electronics
Printed electronics applications and their associated

processes demand materials with highly-defined rheological properties. For screen printed electronics for, for example, sensors and diagnostics, the following behaviours and attributes are critical:
Mesh flow back
Sagging and slumping
Track retention
Dispersion quality
Shelf life
Stability of conductive & resistor pastes
Inkjet printed conductive materials must have a suitably low viscosity to enable jetting but also must maintain their shape and position once onto the substrate. Furthermore, visco-elastic characteristics can impede droplet formation, leading to poor print quality and misting.
If you would like us to profile the rheology of your electronic inks, pastes and slurries please get in touch.
Some of the clients we have provided rheology and viscosity assistance in the field of electronic materials include:
DuPont, Johnson Matthey, Ballard Power Systems, AFCC, Henkel.