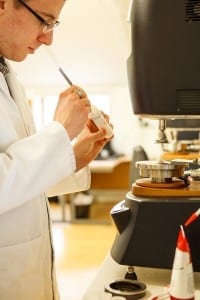 Today's manufactured materials possess a complex combination of physical properties that combine to deliver the critical processing, storage, handling and performance attributes necessary in a competitive marketplace. We provide expert material characterization services of a wide range of those attributes for suspensions, emulsions, solutions, gels, waxes, powders and a host of other materials. Our testing is backed up with all the support and advice you need to ensure you:
Understand the test methods performed and the metrics obtained
Understand how the results gathered relate to, or predict, product performance
Can confidently discuss the work performed with your colleagues, associates and management
The links below take you through to further details.
---
Let us know what you are trying to measure, and we'll use our expertise to select or develop a method.
---
The rheological properties of most relevance to manufactured products comprise viscosity and flow behaviour, structural properties of colloidal and polymer gels and viscoelasticity under low and high deformation conditions. Typical rheological investigations into those properties deliver valuable quantified metrics such as yield stress, viscoelastic moduli (G', G", tan delta) thixotropy, and zero-shear viscosity.
Learn more about rheology testing services…
---
Complimentary to our rheological testing capabilities, we can measure contact angle, surface tension, interfacial tension, interfacial rheology and advancing/receding angle. This can be done either as a static measurement, or dynamically observing changes over time. Applications vary from industry to industry where control of coating processes, multi-phase stability or foaming are important. Learn more…
Learn more about drop shape analysis services…
---
One of our most popular requests control of viscosity is important in quality control as well as various research application. We can perform viscosity measurements from simple Brookfield viscosity tests to sophisticated measurements across a range of defined shear rate, shear stress or temperature conditions to suit your needs. Whether you are looking to understand soft material behaviours under 'forced flow' or 'free flow' conditions, you can rely on our many years of experience to identify the correct methods to achieve your business objectives.
Learn more about viscosity testing services…
---
Tribology is an exciting relatively new method for the food, cosmetics and pharmaceutical industry. Tribology involved taking measurements of the lubricating qualities of products in contact with a range of soft surfaces to gain an understanding of the interactions of materials with biological structures such as the skin, mucous membranes, tongue or palate. We have also developed methods to consider the impact of salivary proteins such as mucin on lubrication in the oral cavity.
Learn more about tribology testing services…
---
We can provide a range of powder characterisation methods including assessment of flow functions, wall friction, compaction, bulk density under a range of pressures and stickiness. Industrial applications include understanding powder processing characteristics, hopper design, material handling post storage and compaction.
Learn more about powder testing services…
---
Dynamic Mechanical Analysis (DMA) is a subset of thermal analysis techniques for characterising viscoelastic properties as a function of temperature or frequency. DMA can explore properties such as the glass transition, damping properties, relaxation properties and decomposition under specific environmental conditions or phase changes such as melt, curing or crystallisation.
Learn more about dynamic mechanical analysis testing services…
---
We have a range of equipment and probes for performing a variety of texture tests on foods and other products and full Texture Profile Analysis measurements for the measurement of hardness, springiness, cohesiveness and resilience.
Learn more about texture analysis services…
---
Optical Microscopy and Imaging
Leica DM750, with phase contrast and cross polarization
---
Didn't find what you were looking for? Contact us to discuss your requirements
---