Professional Advice & Consultancy for Good Rheology & Viscosity Testing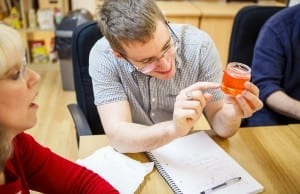 Unless you're doing it all the time like us, setting up rheometer or viscometer standard operating procedures (SOPs) and new test methods can be costly and frustrating and can be a very time-consuming process. Getting good quality results that are free from instrument and methodology-related factors is one thing but do they really tell you what you need to know? This is where our Rheology Consultancy service can help.
If you have new or revised products in need of validated methods, or maybe if you have lost faith in your current tests or methodologies, then we can help you. Please get in touch through our Rheology Lab contact page.
Meanwhile you might be interested to understand really how easy it is for you to get the answers and to get the long term solutions that you need. This is how we approach any project – with the prime concern being to make it easy and simple for you. We do the tough bits… that's what we're good at.
Rheology Consultancy: The Easy Route to Good Rheology & Viscosity Testing
1: We establish your needs by email, web-meeting or telephone…
Is the test method for product development or quality control?
Is the method for currently-owned test equipment or is there budget for new equipment purchases?
What is the technical skill level of the instrument users?
2: We will develop test methods and perform initial validation, repeatability and reproducibility testing
With your supplied samples will we identify the rheological metrics of most relevance, develop methods for delivering those metrics, identify any experimental or instrumental artefacts that may lead to erroneous results and finally identify the best method to establish simple quantification of those metrics.
3: We present developed methods and recommendations to you and, if required, install those methods at your site.
This follows the method development work. We can present to you on-site or if you prefer, in a web meeting.
4: We will then give full training
We will then provide full training in both the principles and practical implementation of your methods, covering sample handling and conditioning, measurement, identification of artefacts and interpretation of results.
5: We will give you ongoing support
We always offer the provision of ongoing support to make sure that the methods are implemented effectively and can take into account any future developments
Our Rheology Lab consulting has successfully helped many companies, large and small. If you'd like to see what some of them have said, please see our testimonials page.
---
---